Parent Teacher Fellowship
PTF
The Purpose of Parent Teacher Fellowship (PTF) is:
To build and strengthen a spirit of unity among BCS families.
To provide encouragement and support for BCS teachers, staff, and parents.
To enrich and promote quality Christian education and personal growth at BCS.


What do we do?
Parent Teacher Fellowship brings parents, teachers and staff together to support and encourage one another as we help our students grow. PTF helps foster relationships to create a loving environment, which greatly improves the personal growth and educational success of our children.
We host monthly meetings and provide opportunities for all parents to stay informed and actively involved. We also assist in fundraising, to provide educational materials, staff support, and student scholarships that exceed the normal school budget. All parents of preschool and elementary students are encouraged to join us!
Education is much more effective and enjoyable when we work together!

Parent Teacher Fellowship welcomes everyone and we would love to have your help and support. Please contact us at This email address is being protected from spambots. You need JavaScript enabled to view it.
Back-to-School Ice-Cream Social
Book Fair
Donuts with Dad
Muffins with Mom
Pasta Fundraiser (raised money technology, physical education, and playground equipment)
Fall Family Social
Staff Lunches at Conferences
Staff Christmas
Open House & Family Fun Night
Pizza with Grandparents
Teacher Appreciation Week
Last Day of School Celebration
How to Get Involved:
Use our easy online Sign-ups to get involved in this year's PTF activities!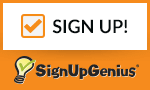 Please like our school page on Facebook & stay connected:
Parents can also join our private Bookcliff Christian Families Page for even more updates and make you own posts to connect and share with other BCS parents.